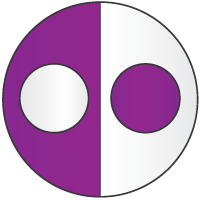 Chancellor Minor ( Youth and Families Coordinator): Hugoline the Delicate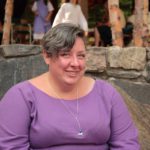 Hugoline the Delicate of House Three Skulls has been active in the SCA since attending Pennsic in the summer of 2011.  In that time she has served as a Youth Officer at Large attached to Barony of An Dubhaigeainn.  In addition to working with children and families, Hugoline enjoys dabbling in the bardic arts, designing games and puzzles to play at events, helping people who can actually cook in the kitchen, and keeping her friends who fight hydrated.
In the mundane world, Colleen is a high school social studies teacher with more than 20 years in the classroom, an avid LARPer and runner of LARPs.  She hopes to bring her love of games, and spirit of inclusiveness to this office to continue the work of her predecessor in making the East Kingdom an even more welcoming place for families and children of all ages to grow and thrive.
Deputy Chancellor Minor ( Youth and Families Coordinator):
Pia

 Maletesta d'Rimini    
Deputy for Children with Special Needs: Mistress Kis Maria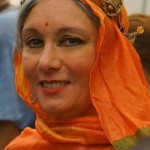 Mistress Kis Maria, "Mika" has been an active member of the Society for almost 20 years now. She has held baronial as well as minor kingdom positions relating to youth throughout that time. As a laurel she has a strong love of period arts and sciences, finds that participating in activities allows you to meet and share good times and knowledge with the members of the society that she may otherwise not have the pleasure and honor of spending time with. For fun she has taken up equestrian activities, on occasion can be found on the archery field, or most often serving at feasts.
In the modern world, Mary Jo is a special education teacher; a staunch advocate for inclusion, understanding of the different abilities of all, and in finding the techniques to explore and participate in activities. Her goal is to help all individuals employ their strengths and find skills and techniques to work around their difficulties, to become part of a village, and recognize that their important role within the community is paramount, for all people, not just those who are recognized as differently abled. Communication and understanding is your most useful tool. If you would like to discuss any concerns, difficulties, or just want ideas to help all of youth to fully participate, please feel free to contact her.
Tir Mara Crown Principality Deputy (Canadian Regional Deputy) : Lord Eginhard de Chapelle  
Northern Region Deputy (Maine, New Hampshire, Vermont, and Northern New York Regional Deputy) : Corwin Blackthorn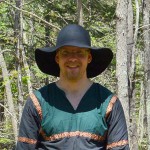 Corwin Blackthorn has been a member of the SCA since his first event at GNEW in 2013. In the modern world, he has experience working with youth both during his many years of involvement in the Boy Scouts of America, as well as being a caregiver for the Boy's and Girl's Club of Greater Nashua, Kid's Club section. He hopes to bring a number of new ideas and enthusiasm to the program as a whole at an events nearby. He is also the Baronial Chancellor Minor for the Barony of Stonemarche.
Central Region Deputy (Massachusetts, Connecticut, Rhode Island, and Central New York Regional Deputy) : Lady Toi Poisson de Mortagne

Toi Poisson de Mortagne became involved in the SCA in the spring of 2003. After having attended a medieval faire at Hammond Castle in Gloucester, MA with her family, they were moved to investigate the possibility of engaging in such frolic on a regular basis. Her first event was Boredom War a few weeks later. In the SCA she particularly enjoys creating activities for children, creating sotelties, wearing big jewelry and making beautiful clothing that she can't wear anywhere else.
Southern Region Deputy (New Jersey, Pennsylvania, Southern New York, and Delaware Regional Deputy) : Mistress Scheherazada al-Zahira
Youth Clerk (Deputy in Charge of Paperwork and Background Checks): Lady Callaigh